Hey friends! Sorry I've dropped off the face of the blog-earth lately!
I know I say this every time, but seriously, work is just crazy. I'm hoping things slow down a bit so that I can get home at a decent time and spend a little time working on the blog.
I'm trying to keep up with reading some posts but I haven't been wonderful. Please forgive me!
First things first...NEXT Wednesday is the Monthly Faves link-up! Get your posts ready to share! I can't wait to read what your January favorites were!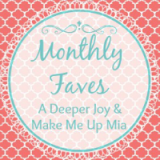 Since work is NOT exciting to blog about, food kept coming to mind when I thought of this week. So today's post mostly revolves around food. Ha! Our cleanse last week was great! I felt great and lost a few pounds. Now that the Superbowl is coming up, I'm gaining it back - grrr!
And here's why...
I start salivating when I think of Superbowl party foods! On Sunday, we're going to a party with some of our new church friends and I'm bring a couple of my favorite (unhealthy) snacks. I'll be making jalapeno poppers!
And because we're talking jalapeno poppers, here are a couple of my favorite recipes that you'll love!
I don't have a photo of this, but listen up! My hubby's queso is the best queso ever. It's VERY unhealthy so we don't make it often, but it's perfect for parties like this. Here are the ingredients:
Ground beef (cook in Ortega taco sauce)
Velveeta cheese
Tostitos jarred queso
Green chilis
That's it. It's amazing! I think it's the taco sauce that makes it a little more unique.
Have a great weekend, friends! Be safe and enjoy the festivities!