For 12 years, I was on my own, folks. I moved out of my parents house at age 18, supported myself through undergrad and graduate school and then lived the single life for 7 more years. During this time, I bought and sold a condo, traveled the world, worked professionally with a typical city commute and raised a little puppy.
...because every single girl wants to play with light sabers at FAO Schwartz in NYC...
Then at age 30, I got married.
Don't get me wrong, I LOVE marriage and LOVE my husband, but can I just say, it's tough when you've established a way of life that a 22 year old who gets married hasn't done yet?
I had a way of budgeting my money down to an art, I could come and go as I pleased, I didn't have to run a little shopping spree by anyone, I had dinner with friends often during the week AND on the weekends. I folded my clothes how I wanted to, prepared food how I wanted it, did laundry how I thought it should be done and no one ever questioned why I take over an hour to get ready because I hate being rushed.
While I do miss some of these things, I am learning so much about myself, how selfish I am, and how to truly be sacrificial because someone else is in the picture now. I tried to live this verse out when I was single:
An unmarried woman is concerned about the Lord's affairs: Her aim is to be devoted to the Lord in both body and spirit...
I am saying this for your own good, not to restrict you, but that you may live in a right way in undivided
devotion to the Lord.
~1 Corinthians 7:34a & 35
Since getting married, I have learned how selfish I can be. It was tough for me to learn that I needed to run purchases by my husband. I have a good job and was able to support myself...why should I answer to him?!?! And really?! You want me home more than one night a week to just sit there and watch TV together?! I've got places to be!
Oh Kelli, oh Kelli. That's when God slapped me on the back of my head and said "Wake up! Your husband is your priority. Respect him." I suppose I knew this, but I wasn't able to live it out until God spoke to me through reading
Love & Respect by Emerson Eggerichs
. Marriage is truly about sacrifice...and sometimes it isn't what you want to do, because it doesn't fit
your
desires.
I love serving my husband. I love spending time with him even if we're just sitting on the couch watching TV. God gave me this amazing man to love and I am trying, daily, to show him respect in ways that I never have before. I have to put away my old selfish desires often. We are now a team. I now get to put his desires above my own and I honestly love it. It is truly glorifying to the Lord. It's not always easy, but I'm so appreciative of the opportunity I get to serve him.
If you're single, I know where you are. I KNOW you don't have all the time in the world like the married folks think you do...you're busy too. Use your time wisely...serve the Lord in whatever capacity He tells you to.
If you're married, use your time wisely as well. Serve the Lord in whatever capacity He tells you to. And respect your spouse.
Our purpose in life, does NOT change once we get married. Sure your spouse is your new priority, but
our purpose in life is to glorify God and serve Him
. Married or not, we are all called to do that!
I'm linking up with
Cassie
at
Sage the Blog
and
Cassie
at
Living on Cloud Nine
for In The Word Link Up!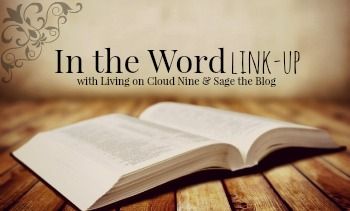 **Don't forget that the Monthly Faves link-up that Mia and I are hosting starts tomorrow! Hope you join!**